Heinz have launched a special offer via their Facebook page that allows "fans" to buy a "limited edition" ketchup.
Unfortunately it's pretty clear that the people behind the integration don't really understand security or privacy.
In order to order the ketchup you need to fill out this form: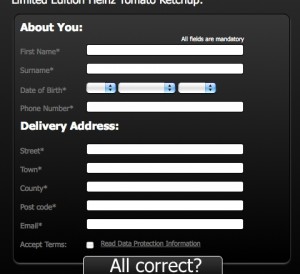 Now why do they need ALL that information to send you a bottle of a ketchup? A delivery address is obviously going to be needed, but why would you need my date of birth?
Sorry, but that's really intrusive.. too intrusive really
Of course to get to that page you really have to trust Heinz .. because whoever setup the "social commerce" doesn't know a lot about secure certificates or ecommerce judging by this:
I'm sorry, but unless you can actually get the ecommerce basics like SSL certs right then all this talk about "social commerce" being the next big thing are just more fluff
And if a company the size of Heinz can't get it right I doubt smaller ones will ..